Today was the kind of day where you work on a lot of projects but not much seems to actually get done...that happens to me all too often I must admit!
While
my daughter and
I cleaned up the mess of pom-pom balls, pipe cleaners and crayons that had been dumped on the floor like confetti (Happy New years to me!), I found a ton of broken ones.
So, I remembered ages ago as a child how my mom always saved the little pieces to make melted big crayons with them. Those were always my favorite crayons! I decided that it would be fun to make some, and ended up having enough for 4 crazy crayons. Now, you see, this is how my days get away from me. I cleaned up the mess...but the other things I had to do got pushed aside for this project. My husband just laughs at me because he knows this will happen every time.
So here's how its done!
Step One- preheat your oven (or toaster oven) to 200 degrees F.
Step Two- peel your crayons and break them into smaller pieces if need be (about 1")
Step Three- pile them into muffin cups (use a liner!)about 1" deep- remember, they will melt down. Too thin and your kids will break them when they try to color. Today I did them in color families and made one "crazy" one. So I did yellows and oranges together, blues and greens together, etc.
Step Four- place in the oven for about 15-20 minutes. If they don't look melted together all the way, keep them in a bit longer. Some of this depends on the type of crayon and how thick you layered them. Speaking of types of crayons...the nice name-brand ones will work the best because they have more pigment. Today I had mostly cheapo crayons to use, and they have more wax. When they melt, the wax will come to the top, and the pigment will sink to the bottom. So it actually turns the cheapo crayons into higher quality ones! Just remind your little one that the plain waxy top won't color at all, it will be clear. You can try to shave that part off to save frustration if you want, but LJ got the point pretty quick.
Step Five- Cool them, then COLOR!!!
They are great for chubby little hands...
REMEMBER- I am trying to get more followers, so please become one! Once I reach my current goal I will do a giveaway!!! Please join and tell your friends.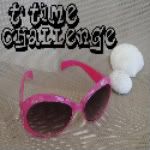 Fun Stuff Fridays!